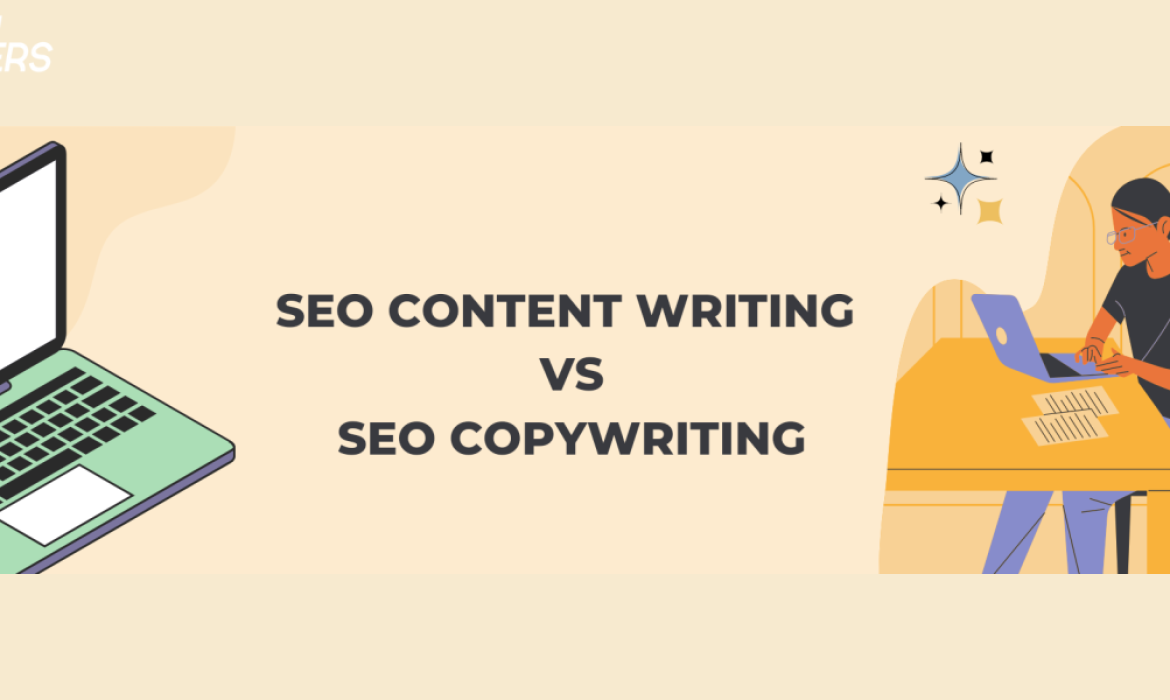 When it comes to improving your online presence and driving results through search engines, understanding the difference between SEO content writing and SEO copywriting is important. These two elements play vital roles in the world of digital marketing, each with its unique purpose and impact.
SEO Content Writing
SEO Content Writing is all about creating informative, engaging, and relevant content that appeals to both readers and search engines. It forms the foundation of your online presence, aiming to provide valuable information to your audience. In short, SEO content writing focuses on creating articles, blog posts, and web content that not only rank well on search engine result pages but also educate, inform, and engage your target audience. This type of content serves as a valuable resource for your readers, building your authority in your niche and attracting organic traffic to your website.
SEO Copywriting
SEO Copywriting, on the other hand, is the art of writing persuasive and compelling copy with the primary goal of converting visitors into customers or leads. It's the content that encourages readers to take specific actions, such as making a purchase, signing up for a newsletter, or contacting your business. SEO copywriting goes beyond merely ranking high in search results; it's about using persuasive language, calls to action, and storytelling techniques to connect with your audience on a personal level and compel them to engage with your brand.
Understanding the difference between these two approaches is important in determining your digital marketing strategy. Depending on your goals and objectives, you may need either an SEO content writer a copywriter, or even a combination of both to achieve the desired results.
Do I Need An SEO Content Writer Or A Copywriter?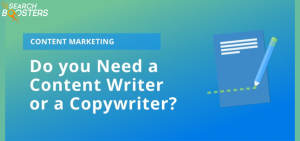 When it comes to choosing between an SEO content writer and a copywriter, the decision should align with your specific goals and the outcomes you seek to achieve in your digital marketing efforts. Let's explore the key differences to help you make an informed choice:
Convert Traffic and Leads
An SEO content writer is skilled at writing and creating informative, engaging content that attracts organic traffic and educates your audience. On the other hand, a copywriter specializes in creating persuasive copy that converts visitors into leads or customers. Depending on your priority, you may require one or the other, or a combination of both to strike the right balance.
Improve Rankings and Organic Traffic
SEO content writers are adept at optimizing content for search engines, ensuring your website ranks well for relevant keywords and attracts organic traffic. Copywriters, while not primarily focused on rankings, can improve the conversion potential of your web pages through persuasive language and calls to action.
Generate Email Subscribers
If building a subscriber base is a top priority, an SEO content writer can create valuable, informative content that encourages visitors to subscribe. Copywriters can further enhance subscription rates by creating compelling opt-in forms and persuasive copy.
Create Compelling Ad Copy
When it comes to paid advertising, copywriters shine. They have the skills to create attention-grabbing ad copy that maximizes click-through rates and conversions. SEO content writers contribute role by ensuring that the landing pages associated with these ads provide valuable information.
Tell Your Brand Story
Copywriters excel in storytelling and can help convey your brand's narrative effectively. They create emotional connections with your audience, while SEO content writers ensure that your brand's story is woven into informative content across your website.
The choice between an SEO content writer and a copywriter depends on your digital marketing goals and priorities. It's not a matter of one being better than the other but rather which skill set aligns most effectively with your specific objectives. In many cases, a balanced approach that incorporates both can yield the best results, maximizing your online visibility and conversion potential.
What Makes An Excellent Copywriter?
When seeking an excellent copywriter for your digital marketing activities, certain key features and qualities set exceptional professionals apart in the field:
Exceptional Creativity
A top-notch copywriter is full of innovative ideas and can create appealing narratives that connect with the target audience. Their ability to think outside the box and devise unique angles is a valuable asset.
Persuasive Writing Skills
Persuasion is at the heart of copywriting. Skilled copywriters know how to use persuasive language, emotional triggers, and compelling calls to action to drive conversions effectively.
Adaptability
The digital landscape is ever-evolving, and an excellent copywriter stays up-to-date with the latest trends and techniques. They can change their writing style to suit various platforms, from web content to social media to email marketing.
Understanding of SEO
While not primarily an SEO expert, a great copywriter understands the fundamentals of SEO and can seamlessly integrate relevant keywords into their copy without sacrificing readability or engagement.
Market Research Expertise
Experienced copywriters conduct in-depth research to understand your target audience, market trends, and your competition. This knowledge informs their writing and ensures their content appealing to their audience.
Results-Oriented Mindset
Ultimately, an outstanding copywriter is results-driven. They create content with a clear focus on achieving specific goals, whether it's boosting conversions, increasing brand awareness, or driving traffic.
Key Skills for an Exceptional SEO Content Writer
For an SEO content writer, possessing specific key skills is paramount to success in creating content that not only ranks well on search engines but also engages and informs readers:
Keyword Research Expertise
SEO content writers are skilled in conducting keyword research to identify the most relevant and high-impact keywords for your industry and niche. They may fit these keywords into writing while keeping it natural and readable.
Content Optimization
These writers are well-versed in on-page SEO techniques, optimizing content structure, meta tags, and headings to enhance search engine visibility. They also pay attention to factors like mobile-friendliness and page speed.
Quality and Originality
Exceptional SEO content writers prioritize producing high-quality, original content that provides genuine value to the audience. They avoid duplicate content and plagiarism, ensuring your website remains credible.
Audience-Centric Writing
SEO content writers create content with your target audience in mind. They understand your readers' needs and preferences, creating content that addresses their questions and concerns.
Engaging Writing Style
These writers can make even complex topics engaging and easy to understand. Their writing style encourages readers to stay on the page and consume the content thoroughly.
Content Planning
SEO content writers excel in content planning and strategy, mapping out a content calendar that aligns with your marketing goals and target keywords.
In the ever-evolving digital landscape, having a skilled SEO content writer is important for maintaining your online presence and engaging your audience effectively. Their ability to blend SEO best practices with engaging, informative content is the cornerstone of successful online marketing.
Which One Do You Need? Top-Notch SEO Content Writer vs. Persuasive Copywriter
In the search for digital marketing success, you may find yourself asking the important question: "Do I need an SEO content writer or a copywriter?" The answer lies in your unique goals and the elements of your digital marketing strategy.
An SEO Content Writer is the ideal choice when your primary focus is on creating informative, value-driven content that ranks well on search engines, attracts organic traffic, and educates your audience. They excel in keyword research, on-page optimization, and audience-centric content creation.
On the other hand, a Copywriter is your go-to professional if your primary objective is to create persuasive, conversion-focused content that compels visitors to take specific actions, such as making a purchase, signing up for a newsletter, or contacting your business. They specialize in creating compelling calls to action, storytelling, and emotional engagement.
In many cases, a balanced approach that incorporates both an SEO content writer and a copywriter can yield exceptional results. The SEO content writer ensures your website ranks well and provides valuable information to your audience, while the copywriter focuses on converting those visitors into leads or customers through persuasive language and compelling storytelling.
Ultimately, the choice between an SEO content writer and a copywriter should align with your digital marketing objectives. Each has a unique set of skills and expertise, and the most effective strategy often involves using the strengths of both to achieve optimal results in your digital marketing efforts.
If you are willing to get Professional SEO services, then make sure to get in touch with our team.